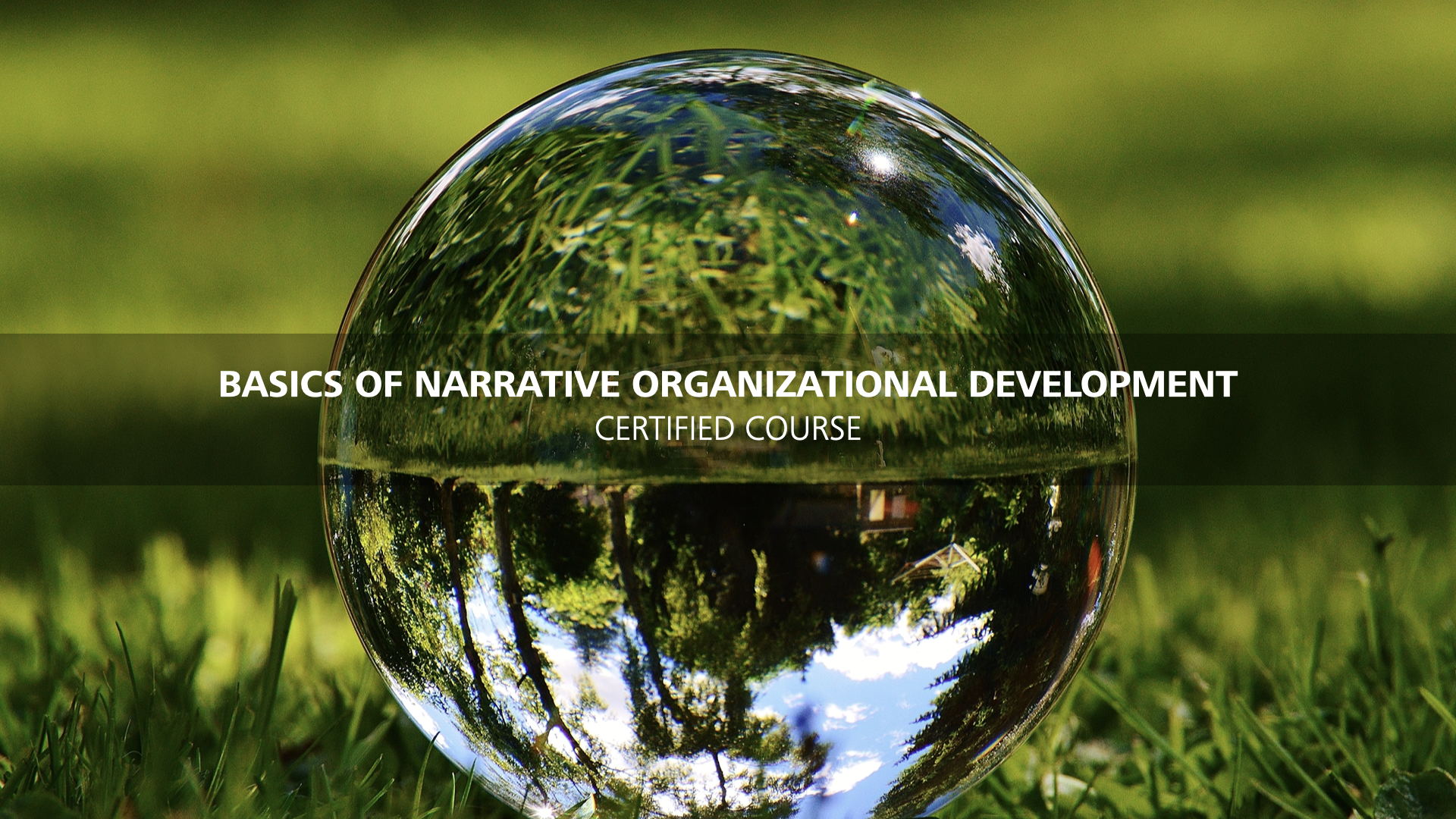 Basics of Narrative Organisational Development
Further Education with university certificate
Organisations are narrative systems 
Narratives (i.e. imprints and thought processes in the form of stories) are underlying many communicational acts as well as the way employees and managers think and behave. Therefore, if you really want to understand an organisation and create lasting changes, you need to be aware of the stories circulating in the company and be able to work with them. This is the key to planning effective interventions and working on an organisation's identity, internal and external communication, the creation of meaning, the leadership culture, employee motivation and change processes.
Training on a scientific basis
As results of narrative psychology and brain research suggest, people use narrative structures (stories) to understand meaning, identity, processes, strategies, visions etc. and make them comprehensible as well.
The training course "Basics of Narrative Organizational Development" enables consultants and organisational developers to work with these basic narrative principles of an organization.
"A narrative organisation can make the hidden visible, put knowledge to use and discover new possibilities for action."
Based on a systemic approach, the fundamental attitude of narrative thinking and working as well as narrative methods are presented in all essential contexts of organisational consulting – from coaching to development and change processes.
Narrative organizational development – a consulting field with a future
For about 15 years, companies have been exploring storytelling for their communication. Currently they are making another discovery: the importance of stories for organizational development and for a company's viability and survival. Nobel Prize winner Robert Shiller, for example, studies "narrative economics" (as per the title of his book from 2020) and economic sociologist Jens Beckert, Director of the Max Planck Institute for the Study of Societies, emphasises the importance of future stories for the competitiveness of companies. Therefore, a great demand for narrative organisational consultants and developers who work on a systemic basis is to be expected in the next few years.
Practical training with university certificate
The training will consist of 11 digital zoom sessions (4 hours each). Its successful completion is confirmed by a certificate from the Media University Stuttgart.
We see the training course as a "storylab": All contents are taught in a practical way and can immediately be integrated into the participants' concrete field of work.
Target group
The target group of the seminar includes consultants for organisations and management, organisational developers (internal and external), HR professionals and managers.
The course:
The course consists of 11 mandatory digital sessions (4-6 hours each). Its successful completion is confirmed by the certificate "Basics of Narrative Organizational Development" issued by the Stuttgart Media University. To obtain the certificate, the 8 core sessions as well as three out of the six optional sessions must be attended.
This training course imparts the background, basic knowledge and tools for narrative work. In order to provide insight into the narrative dimension of companies, the influence of narrative structures, stories and the use of narratives will be explained and deepened by individual and group exercises. Meaning, values, knowledge, identity as well as communication are the main fields of narrative work. Using a hands-on approach, we will introduce participants to the application of Storytelling, Storylistening, Storydoing and Story-Co-Creation.
Mandatory Sessions:
Session 1: Check in
14. January 2022
Entering the narrative world: Introduction in the world of stories: What is a story? What is the basic narrative attitude and the narrative organisation? Facilitators: Christine Erlach & Michael Müller. Time: 12 – 6 pm
Session 2: Roles
28. January 2022
Roles in narrative organisational development: leadership, consultations and relationship dynamics. Clarification of the assignment and development of change story. Facilitators: Jac­­­ques Chlopczyk & Michael Müller. Time: 2 – 6 pm
Session 3: Story-Listening
18. February 2022
Learning how to use a Story Board to tell the team-story. Get to know the Storytelling-Circle and Metaphor work. Facilitators: Christine Erlach & Michael Müller. Time: 2 – 6 pm
Session 4: Narrative Timelines
25. March 2022
Learn to work with Narrative Timelines between Landscape of Action & Landscape of Identity. Facilitators: Wolfgang Tonninger & Christine Erlach. Time: 2 – 6 pm
Session 5: Storytelling
29. April 2022
Narrative visions, Narrative strategies and the future story. Facilitators: Christine Erlach & Michael Müller. Time: 2 – 6 pm
Session 6: Story Co-Creation
20. May 2022
Learn how to develope the core story in teams. Facilitator: Christine Erlach & Michael Müller. Time: 2 – 6 pm
Session 7: Story-Doing
30. September 2022
Ways to re-author organisations Facilitators: Jacques Chlopczyk, Christine Erlach, Michael Müller, Wolfgang Tonninger. Time: 12 – 6 pm
Session 8: End
28. October 2022
Closing & celebration with Christine Erlach & Michael Müller. Time: 2 – 4 pm
In addition to the mandatory sessions, three optional sessions must be attended. The range of optional sessions can be found here: https://www.beyondstorytelling.com/narrative-organizational-development
To receive the full certificate "Narrative Organisational Development", there will be a Masterclass by Christine Erlach & Michael Müller – contact us for more information.
Price for the whole training "Basics of Narrative Organizational Development" (11 modules):
2.490 € Regular

1.990 € Corona-Price
1.290 € scholarship – we offer a limited number of sponsored tickets – please contact us, if you cannot afford the "Corona-Price".
Price for a singular session (out of the options):
249 € Regular
199 € for participants